If you've ever sold something on Amazon, you've most likely heard of (FBA Shipping), or Fulfillment by Amazon. With the introduction of FBA, online sellers were able to sit back and relax while Amazon handled the heavy lifting. Amazon's huge warehouses throughout the world are now available to sellers. All orders placed for your items would be packed and sent by Amazon's hardworking workforce. When it comes to FBA, Amazon staff even manage customer service.
These are just a few of the advantages of Amazon's FBA service. While these benefits seem appealing, they are not without expense. Fulfillment by Amazon (FBA) is an Amazon service. It assists sellers with storage, packing, and shipping. This relieves sellers of the burden and allows them to be more flexible in their selling activities. Sellers can ship their products to an Amazon fulfillment center. When a customer places an order, Amazon staff physically prepare, package, and ship the item(s). In this article, we are talking about this topic. So, keep reading to know more about it.
FBA Shipping meaning
FBA is an abbreviation for Fulfillment by Amazon, a service that allows you, as an online merchant, to use Amazon's massive warehouses to store and transport the items you sell on the Amazon website. How Amazon FBA works is a simple yet effective procedure that may help your online business develop without requiring you to invest thousands of pounds in storage facilities and employees. Consider the following situation to see how Amazon FBA may assist you. You've done your homework, found your products, and now you have two or three hot things selling nicely on Amazon. Your company is gaining traction and going forward.
As an entrepreneur, driven, and passionate seller, you're probably thinking about buying more stock at this point, but you don't have the space to keep it and are concerned about the extra time it will take you to ship more orders. Is this the end of your plans to develop your business? No way, no how. This is when Amazon FBA can come in handy. The Amazon Fulfillment service is so efficient that when customers buy from Amazon, they are sometimes completely ignorant that they are buying from a third-party vendor using Amazon FBA. They will see no difference between buying from Amazon directly and from a vendor that uses Amazon FBA.
They will have the same shipping choices, return and refund policy, and quality of service. As you can expect, this approach may be quite beneficial for an Amazon seller and can undoubtedly relieve a lot of time-consuming responsibilities. It is not, however, a magic bullet, and it will require work to get started, just like any other company approach.
FBA Shipping Fees
Amazon charges FBA members a variety of fees.
Standard Seller Fees: When an item sells, Amazon charges a seller's fee of around 15-18% of the product's value. The amount will differ based on the goods. Amazon claims a 15% fee, but there are certain hidden fees, such as refunds that are not completely paid back, which raises the overall rate to the seller.
Fulfillment fees are charged per unit and vary depending on whether the product is standard or big. These fees cover choosing and packing, shipping and handling, customer support, and product returns.
Goods Storage Fees: They pay vendors monthly storage costs per cubic foot of inventory based on calendar month and daily average volume. The product size tier also determined these costs. Long-term storage costs apply to units kept in an Amazon fulfillment center for more than 365 days, and they are in addition to any monthly inventory storage fees.
International Shipping: Amazon now provides Global Export, which enables sellers to ship their products worldwide.
FBA Shipping to Amazon
Setting up your first invoice can be difficult at first, but after a few tries, you'll be an expert. This step-by-step tutorial will walk you through the basic techniques of setting up an invoice.
Step 1
Go to "Manage Inventory" in Seller Central and locate your listing.
Step 2
On the right, select "Edit" from the drop-down menu and then click on the "Send/Replenish Inventory" option.
Step 3
Enter your "ship to address" in this step if you haven't already. Then, enter your home or company address if you have the inventory there. Then you must select either "Individual items" or "Case-packed products." If your shipment includes numerous goods with different SKUs or conditions, select "Individual products" (new, used). For example, if you are selling retail arbitrage and wish to send 10 different things to Amazon at the same time, you would select this option. If your shipment has only one SKU, choose "Case-packed items." Then, for each SKU in the shipment, you may input the number of cases and units per case. For example, if you are sending many pieces of your private label goods, you would select this option. Then, click on the "Continue to shipment plan" option.
Step 4
You will input how many units of your product and how many cases you are shipping on this screen. In this case, I'll ship a total of 50 units. Because I can only accommodate 25 units in each case, I'll limit the number of cases to two. We're mailing 50 units, as shown under "Total Units" below. Click on the Continue option after entering the number of units per case and the number of cases.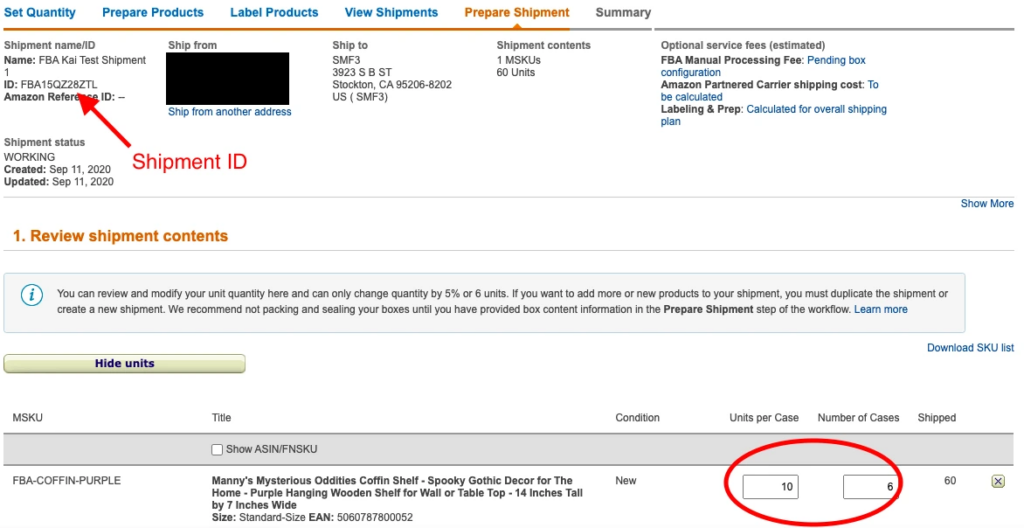 Step 5
In this phase, you must decide if your items must be prepared before shipping to Amazon. This might indicate that it should be placed in a poly bag, tagged, or bubble-wrapped. A drop-down menu will allow you to pick the type of goods. I'll use "baby items" as an example. Amazon will tell you what kind of preparation your purchase requires here. If your product does not fall into one of the categories shown in the drop-down menu, you do not need to prepare it. If you don't have the resources or equipment you need to prepare your items, Amazon will do it for you for a price. The charge will range from $1.00 to $2.30 per unit, depending on the level of preparation required for your goods.
Step 6
The next stage is to decide how your items will be branded. If your items require an Amazon (FNSKU) barcode, you may apply it yourself or have Amazon do it for you. If you want to label the products yourself, enter the number of labels you want to print and then click "Print labels for this page." Peel and paste the FNSKU barcodes onto each item using address label sheets.
In some cases, you may need to use the manufacturer's barcode. This might be the situation if you're selling retail arbitrage or wholesale products with a barcode already printed on the package. If your FNSKU begins with "X00," you must label your items with the Amazon barcode, also known as the FNSKU. Use current manufacturer barcodes for FNSKUs beginning with "B00." In this area, you may find your FNSKU under "Product Name." If you are reselling things through retail arbitrage, you may still need to use the Amazon (FNSKU) barcode instead of the manufacturer barcode, however, I recommend using the FNSKU at all times.
Please keep in mind that you may modify your FBA Product Barcode Preference to either the Amazon or Manufacturer barcode. Go to Settings > Fulfillment by Amazon > FBA Product Barcode Preference in the upper right corner of Seller Central. Choose a Merchant for this part if you are selling a private label product and have your supplier put your FNSKU barcode on the package. If you do not want to label the items yourself, you may have Amazon label them for you for $0.55 for each unit.
Step 7
You'll find out where Amazon wants you to send your merchandise in this step. Amazon selects where to ship your purchases based on demand across the country. Your incoming shipment options are set to "Distributed Inventory Placement" by default, which means Amazon may break your shipment up and send it to multiple fulfillment centers. This might be aggravating, especially if your things are already packed and ready to ship. Amazon, for example, may wish to ship 30 units to a warehouse in New Jersey, 15 units to a warehouse in Texas, and the remaining 5 units to a warehouse in California.
But what if you don't want to split your package up? In Seller Central, you may adjust your FBA shipment options to send all of your items to a single warehouse. You can select "Inventory Placement Service," which allows you to designate amounts of a single seller SKU to a single fulfillment facility. If you choose this option, you will be charged a per-unit cost. It costs $0.30 per unit for things weighing less than one pound and $0.40 per unit for those weighing more than one pound. To modify these options, navigate to "Settings" > "Fulfillment by Amazon" > "Inbound Settings," then edit. In this case, Amazon informs me that I am shipping all 50 items to ABE8 (an Amazon warehouse in New Jersey) and that my shipment will not be divided up. So I'll select "Approve & continue," followed by "Work on shipping."
Step 8
In this final step, you will select a delivery provider and how your things will be packaged. Amazon will offer you pricing when you enter your package dimensions and weight, and you will be ready to ship. Because this is a tiny package, I've selected "Small parcel delivery" and "Amazon-partnered carrier." If you are sending pallets to Amazon, you can select "less than truckload (LTL)." In the next area, enter the units per box, the number of boxes being sent, the dimensions, and the weight. After you provide that information, click "calculate," and Amazon will compute the delivery cost for you.
After that, you may accept charges and print your mailing labels. Finally, select a ship date (the day you intend to ship the boxes) and print your labels! The label has two barcodes. Check that both barcodes are visible on each box. One barcode belongs to UPS, while the other belongs to Amazon. When you've finished these steps, click "Complete shipping." That's all! You may now mark your boxes and drop them off at a UPS facility near you. If you are unable to drop items off, you can schedule a UPS pickup from your home.
FBA Shipping Box Size
A standard box packaged for FBA delivery containing ordinary products should have a longest side of fewer than 18 inches.
The median side measurement is less than 14 inches.
The shortest side is just 8 inches long.
If the product has a large side that exceeds its dimensions, we can use an extra-large box to accommodate it. They will label the box as an extra large box. Because it's too big now.
The normal weight limit for FBA boxes or cartons is 50 pounds.
Boxes containing watches and jewels should not weigh more than 40 pounds.
If the product weighs more than 50 pounds, they must place a "Team Lift sticker" on both sides of the box.
For items weighing more than 100 pounds, they should use the "Mechanical Lift Mark" on both sides of the box.
FBA Shipping charges
Total Referral Fees = Item price x Referral Fee percentage. For example, if you sell a Book for 450 and the referral fee percentage is 4%, then Referral Fees = 450 x 4% = 18. Every time your goods are sold on Amazon, you will be charged a closing fee based on the price range of the product. This charge varies depending on the fulfillment method you use. Fees depending on item price and category = Total Closing Fees.
FBA Shipping charges Example 1
If you sell Books for $200 (the Books category is on the 0-250 exemption list), closing fees = $12.
FBA Shipping charges Example 2
If you sell a Speaker for 450 (the Speaker category is not on the 251-500 exemption list), your closing fees are 20 Easy Ship & Self Ship.
Closing Costs
Fees depending on item price = Total Closing Fees.
If you sell 200 books sent with Easy Ship, your closing fees are $5.
If you sell a speaker for 450 via self-ship, closing fees = 20.
Amazon will deliver your items to the consumer and charge you a fee if you utilize Easy Ship or Fulfillment by Amazon (FBA). (If you want to Self-Ship, you must incur the expense of shipping and delivery through a third-party courier service/your own delivery agents.) Depending on the distance, different price rates apply. Local rates will apply when collection and delivery take place in the same city, i.e. intra-city pickup and delivery. Four regions make up the regional zone. If the shipment moves within the same area but the service is not in the same city, the regional charge will apply. If the cargo transfers across regions, the national rate will apply.
FBA Shipping Label
FBA shipping identification (the barcode that identifies a package in a shipment). For Small Parcel shipments, each package's shipping label should contain a unique barcode. This ensures that your package is handled as soon as it reaches Amazon's fulfillment network.
FBA Shipping Calculator
The FBA Calculator assists sellers in determining the potential earnings of a product. By experimenting with multiple pricing points, product costs, and delivery costs, an Amazon seller may determine the highest profit potential of their product. He/she may also use it to determine the best pricing range for his Amazon goods.
Some Frequently Asked Questions
Is Amazon FBA good for my company?
Before you convert to Fulfillment by Amazon, you should consider if it is the best option for your company. Here are some questions to consider while deciding whether FBA is best for you:
How many sales orders do you get each month?
If you've only recently established your firm, you're more likely to be able to manage your customers' orders on your own. FBA may not be worth the expense in this scenario. However, when your organization grows in size, it gains greater notoriety, which raises the number of sales orders you receive each month. When you reach 40 to 50 orders each month, managing all of these orders on your own may become onerous. This is the time to start utilizing FBA.
Do you have a sufficient number of employees?
If your company sells popular or seasonal items, you may experience periods of abnormally strong demand. In times like this, you may not have enough personnel to handle all of the orders that come in. Starting with FBA is a fantastic choice since Amazon personnel pack and transport items to your consumers.
What kinds of goods do you sell?
When considering using Fulfillment by Amazon, bear in mind that it's preferable if you sell tiny and expensive items to avoid rounding up rising FBA expenses. This is due to the high cost of shipping larger and heavier items, and FBA fees are determined by size categories. Furthermore, if you're delivering enormous, heavy, and low-cost items, you could not generate enough money to justify using FBA. FBA is suitable for businesses that offer small things at higher-than-average retail pricing.
Is Amazon FBA Right for Every Business?
Millions of e-commerce entrepreneurs are using Amazon FBA to operate thriving businesses, but it isn't perfect for everyone. If you are primarily an Amazon seller, it is a good choice that can help you step up to the next level and focus on sourcing new products and earning sales rather than being bogged down with time-consuming fulfilling responsibilities.
Using Amazon FBA may be a profitable and meaningful endeavor. To determine if this is good for you and your business, you need to do your homework and learn about Amazon's laws and restrictions, as well as understand your clientele – your target market. Finally, how Amazon FBA works for you will be determined by your items and company goals. Certainly, Amazon FBA is a straightforward solution for many Amazon sellers to outsource many responsibilities connected with running an online business, but you must ensure that the advantages outweigh the extra expense involved.